Chairman of BelCCI presented award to Stadler Minsk Director
Chairman of the Belarusian Chamber of Commerce and Industry Vladimir Ulakhovich presented the award of the Republican contest "Best exporter of 2019" to the Director of JSC "Stadler Minsk" Philip Brunner. Following the results of the last year, Stadler Minsk was recognized as the winner of the competition in the category "Mechanical engineering and Metalworking".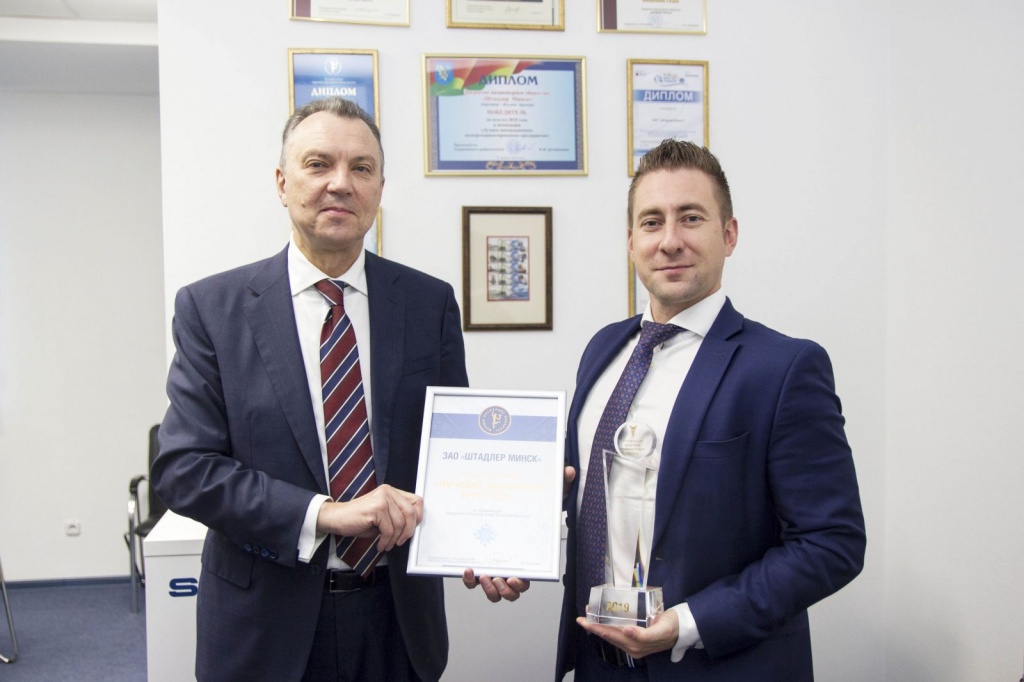 "Stadler Minsk" produces a wide range of products in the field of city and railway transport. In 2019, the company set a record in the production output growth: the total number of production hours was 1.4 million. This workload required the creation of more than 600 new jobs. The company produced about 300 carriages, 200 of them were delivered to Azerbaijan, Hungary, Germany, Georgia, Lithuania, Poland, Russia, Finland, France, Czech Republic, Switzerland, Sweden, Estonia. Bolivia became a new export market for Stadler Minsk last year.
The Chairman of the BelCCI noted that the victory in the "Best exporter of the year" competition is a prestigious award for enterprises, recognition of their achievements in promoting products and the "Made in Belarus" brand on the world market.
The "Best exporter of 2019" competition is traditionally held in 22 categories. Winners were determined in each of them, and the enterprises that scored the closest possible number of points to the winner and showed outstanding results in the export of products and services were awarded encouragement diplomas. This time, 163 companies reached the final, which is almost 10% more than last year.
Among the 22 winners of the contest, in addition to "Stadler Minsk", such enterprises-residents of the FEZ Minsk as: "Plant of electronics and home appliances HORIZONT" and "AluminTechno" LLC were awarded.